About Davidson Publishing
---
Davidson Publishing Publications
Every publication from Davidson Publishing is designed to display the loving creativity of God as He operates in the lives of His People. Al & Fae Davidson are the Owners of Davidson Publishing.
Fae-th as an Author
Fae writes under her pen name of Fae-th because, well...here's a hint:
"It has required such an astounding amount of faith to abide in this rather unique
Life as a Mountain Man's Wife that I have embraced God's abundant gift of the stuff in the choice of my pen name." When you read her book by that name, you'll understand what she means...while you're laughing or saying "Awwww."
Fae as a Publisher
Davidson Publishing was first established in 1996 as a business through which to publish and market the two Ranch Life books written by Phoebe Cranor before Fae began her own writing for publication. You'll find Phoebe's books on the Phoebe Cranor Publications page of this website.
Fae-th writing in a sukkah in Abu Ghosh, Israel during Sukkot
October 22, 2011
She calls it "The most extraordinary place in which I have EVER enjoyed writing".
Wedding Day for Trapper and Fae
June 18, 1994 – also Trapper's Birthday
Crested Butte, Colorado
And thus Life as a Mountain Man's Wife began...
Fae-th and Trapper sounding shofars at Sodom in Israel
November 13, 2011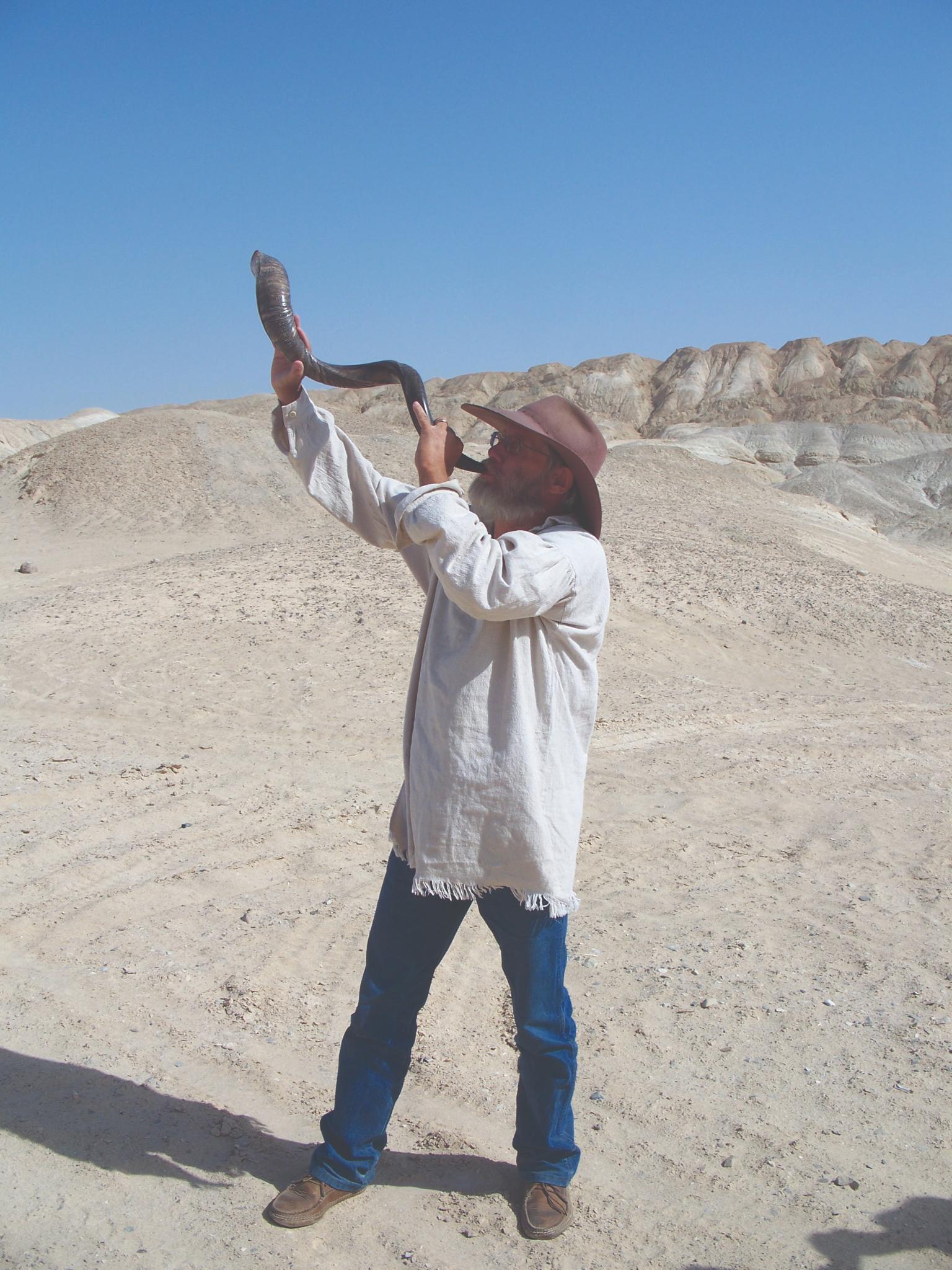 The Davidson Publishing logo includes a photo taken by Fae-th of a shofar which she and Trapper brought back from Jerusalem in 2011. In their luggage they had 10 more of the smaller ones as gifts to others. At the same time they hand carried two longer ones that would not fit in a suitcase which resulted in some interesting moments on the airplanes from Tel Aviv and London and at U.S. Customs in Denver.

A shofar is a ram's horn trumpet like the ones described multiple times in Scripture. In fact, almost every time a trumpet is mentioned in Scripture, it is a reference to a shofar although there are some silver trumpets mentioned at times. The sounding of the shofar has several different tones and variations with many meanings associated with them. Some of the meanings are to signal the coming of the King, to welcome His presence and to thank Him for His Spirit being among us when He is already there.
Just as the shofar proclaims His presence in our lives, Davidson Publishing publications are meant to display His presence and encourage each reader to look for signs of His presence in their own lives on a constant basis in their belief that He is available with open arms desiring to enjoy fellowship with each one of us. He is a master of symbolism and all can discover that He surrounds us with it as a means of showing His face to us – if we will simply look for it. This observation is sometimes written outright and sometimes implied in all of their publications.
The Davidsons see the symbolic revelation in their last name of the Son of David. They refer to Him by His Hebrew name of Yeshua – the name that God told his Earthly father, Yosef, to name Him when He was born and that He was known by in Israel when He came to Earth over 2,000 years ago. With adamant enthusiasm for God's symbolism, calling Him by His full Hebrew title of Yeshua HaMaschiach (which means Salvation, The Messiah) is a rich proclamation of His identity and has great meaning for all who have ears to hear and eyes to see this symbolism. He lives in the hearts of all who have faith in Him to this day and The Davidsons sound a shofar to proclaim His glory and presence on every possible occasion.
They have just such an occasion at 9:00 every Shabbat (Sabbath) Saturday morning in their home – when they sound the shofar and welcome a gathering of Messianic Jewish and Messianic Gentile Believers in Yeshua HaMashiach called...of all appropriate things-----------------------------------–>